05-17-10: TOF Necklace-02
This necklace was strung in a hurry with faux sinew last year so I could wear it to the Day of the Dead celebration. I restrung it proper and gave it a double sided pendant.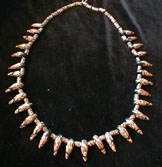 11-02-2009: Tongues of Fire Tear necklace
This necklace was made from the 09-11-09 TOF beads.
Check FireCane and for more TOF techniques