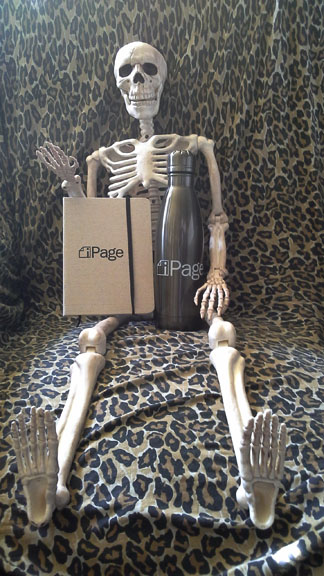 Monthly Highlights
September 13, 2017: I received two "Thank you" gifts from iPage, my web host: a blank journal and a refillable water bottle. These are just perfect for my needs. My new Halloween Skeleton is pleased to show them off.

I forget when Jana got in touch with me about using something nice I said about iPage. All I remember is her asking for my permission to use my website along with the quote for marketing purposes.

My first reaction was the same as if I heard a well respected relative was coming to visit. "I can't clean up this place in such a short amount of time!" Picture rearranging the deck chairs on the Titanic.

I had to explain to Jana that my website is a legecy website, meaning it is a repository for the polymer clay tutorials, which were made willy nilly as topics changed at

CITY-0-Clay

. Picture the Winchester Mystery House with a bunch of prefab cottages plopped in and around the place. That's how my website is constructed.

It's more of an example of how not to construct a website. I had to say 'ur, no" to Jana about using my site but she was still sweet enough to send me swag.

Since I am not selling anything from my website I figure it's good enough to store my polymer clay tutorials, writings, pictures of my yarn explorations, and other what not that fell out of my head that I wanted to share with the public.

My website is not a "show case" or example of how websites should be constructed.

People might ask "Why don't you tidy up the place?" Good question.

(1) Changing pages would break all the links the tutorials have around the world. I made that mistake when I tried to consolidate the "biz" site with the "com" site back in 2003. There are still websites with the broken "biz" links out there in the internet ethers.

(2) At last count there is over a gig of tutorials for polymer clay, not to mention, recommended books and the other things I mentioned above and to change all that around, or make it "mobile device" friendly would take a long time and ain't nobody got time for that. Especially if I'm not getting paid to do the rearranging.

(3) After giving it some thought I figured anyone checking out my tutorials on a cell phone or other tiny screen mobile device is getting what they deserve. Tutorials are meant to be seen on a large screen that's close to your work table.

(4) 2011 is when I started volunteering for the San Francisco Astrological Society.. It was also just after my last divorce. I needed to be part of the astrological community and hang my virtual shingle out on the internet as a feral astrologer. This is my Newish astrology Domain http://www.auntyalias.com/ but is not used much

Keeping up with this website got put on the back burner.

I am feeling the urge to put some stuff on my site, ergo this ramble.

I have decided not to use WordPress for bloging but to go back to doing my static HTML pages in Rambles for stream of conscious sort of stuff like this. I've had a handful of blogs hacked and wrecked and content lost and hair pulled out in frustration. So I'm going back to doing it old school. Like this.

So, anyway, that's the story and I'm sticking to it.

Thank you Jana for the delightful, useful, and most practical swag from iPage. You don't know it but my Venus in Virgo is just tickled pink.