Vermont Farmhouse Jr. Index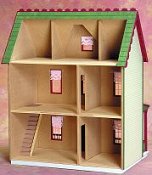 2003 - The picture to the right is what the Vermont Farmhouse Jr. looks like when it is made by a sane person, according to direction, and with no interior decorating.
I am definitely not sane so I doubt if what I end up with will look quite like that.
This index is the chronicling of my first doll house effort. Lex is the "Director" and we'll have visits from other characters.