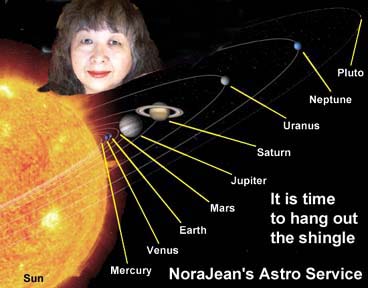 Astrology Index
Testimonials
If you know you wrote a testimonial and you're not listed here, contact me at astrology@norajean.com and help a sistah out.
I know Nora Jean through one of my oldest, dearest friends and have established a warm online connection with her, although we have yet to meet in person. Recently, I have been going through a period of uncertainty about a new romantic relationship with someone who (I think and feel) may potentially be a real Life Partner for me, but who is going through a very confusing, painful and difficult time for himself. I have been unsure about how to respond appropriately to the situation, and my own "baggage" sometimes creeps in to suddenly color my perceptions. Or does it?! I was beginning to confuse myself -- 2nd guessing, rather than coming from a whole and balanced place -- and threw out an SOS for insight to my intimate online community of Beautiful Smart Women.
Nora Jean quickly responded with grace, humor, the wisdom of a few years beyond my own on this Earth, and most importantly, gentle compassion for both myself and my potential mate. She quickly cast my natal chart (which I also know well, but she was seeing for the first time), and also did a lot with the partially incomplete information I gave her about my companion. Due to the circumstances at the moment, I couldn't easily get his exact birth time, but I feel so supported by what Nora Jean has provided thus far that I will definitely be getting his full information as soon as possible, so that she can do a full work-up of our charts together.
Nora Jean was able to give me truly USEFUL insights. She even had some great pointers to help me have a sense of humor in a challenging circumstance: to allow myself to go out, keep having fun and meeting other people while I make space for my love-interest to do his own personal work and get whole, healed and centered on his own. She told me some very funny things about the other men in my life, and how different astro-signs work together and/or in opposition to each other. In regards to my current relationship issue, she helped me see that I might have a tendency to jump in and "help" or heal my partners when they're feeling damaged, and how I might act differently now (by CHOICE, thus overcoming the knee-jerk tendency) to better serve the relationship, myself, my partner, and humanity-at-large.
I think Nora Jean is da bomb... a highly recommended High Priestess of the Holy Moly Not-This-Crap-AGAIN world we all live in.
- K.H., Oakland, CA
My mom met Nora Jean in the hallway and introduced us. I never had an astrology reading before and was excited. It was a good experience and made me learn a lot about myself. It also helped put my career choices in perspective, and now I am going to see if I can use the talents that Nora Jean found in my astro chart to use in real life. I would recommend Nora Jean to everyone who wants to know if they are headed in the right direction, and to know what talents they have and what they should work on. Nora Jean is also very positive and has a very good energy about her, so you will leave the reading content and confident in the information that was provided for you.
N.G. San Francisco, CA
I found Nora Jeanís reading insightful and very helpful. She affirmed and confirmed things I knew and had forgotten, shined a light on complications and brought up an important thread of my life never before commented on that made enormous sense. In addition I found her to be timely, witty and warm. I highly recommend her readings.

JF Iowa
This is great. I read the whole thing and I get it now. I get the social aspects of Jupiter passing through North Node and the way my Uranus squares and transits create rebellion upon uniqueness. This is creating powerful and exciting change in my career, and it is primarily dependent on my willingness to care for my spirit and hold my breath as my lode-stone.
I see my rebellion, at this point in my life, being a turn to eccentric relationships (2 girlfriends, group sex, intimacy with men) and away from the traditional. I've been doing these things since I was 14, but I never thought they would stay with me. Now I'm taking them as mine and my parent's and my brother's expectations be damned. I'm making choices that will probably result in me not raising kids for another 10 years if ever. I'm finding rejuvenation through community and turning away from my family as a source f support, they never were anyway, yet I can love and connect with my blood family, I'm just choosing not to "NEED" them, or need their approval.
Thanks Auntie!
You may use my whole name and city, I'm proud to have you as my astrologer. ;-)
John F. Van Dinther
San Francisco, CA USA
Milly's Testimonial
I have known Nora for 30 years. In that time, I have seen her help countless of her son's teenage friends, get some insight and direction for their lives through the use of astrology.
She has a sharp and logical mind and I know she perceives patterns in the deep recesses of her mind, like a mathematician does. She has applied this gift to her understanding of astrology and is particularly astute when it comes to how transiting planets affect our natal core; just as she would see crochet patterns that she created as she crocheted without a set pattern (except, of course, in her mind).
Recently, she assisted one of my friends that was having a family problem, by doing the chart of every member in the family and helping my friend with a strategy on how to deal with the issue at hand. She is brilliant and compassionate and above all non judgmental and very intuitive with the bawdiest sense of humor that exposes all the lives she has lived. (Because it's impossible to think that in one life, one person can know so much) One comes away from Nora feeling enriched. You can quote me on that.
Milly Rodrigues Mohr, Daly City, CA
I have found NoraJean's astrological readings to be extremely accurate. A time or two times things that I thought did not really apply to me later came back and bit me, to let me know that they were there, and did indeed apply to me.
She tells you the bad as well as the good, so you know what you have to work on to minimize. She knows what she is doing, and is not hesitant about pointing out where you are having trouble and what you need to own up to, to get through it.
I highly recommend her services to everyone.
Her lessons on reading one's own chart are excellent and she is not hesitant about showing you how to figure it out for yourself, if you are so interested.
B. Slate, Washington State
Nora Jean offers practical encouragement with your personal stars and moons. Born into a family of hurters (like many of you out there), I believed Iíd be destroyed by that legacy. With Nora Jeanís keen eyes, and big ole compassionate heart, Iíve come to understand that a birth chart is a guide, a map of a life. And even though I donít drive, I can open the map, and plan which way Iím going to drive, and if I slow down, pay attention, I wonít land in the ditch. Nora Jean is a genuine gem, about as real as the come.
L.L. Turner, NYC, NY
Reading for a Mother and her Teen Daughter
Tessa and my relationship has blossom more! We feel so much more
closer to each other, now that I have an understanding of her
personality and not to take things as personal. I feel that Tessa in
her own ways understands me even more! Thank you for taking the time
to see us. It has been very insightful and I've chosen to accept my
gifts for being empathic and wanting to go forward with learning to
defend myself towards unwanted energy. Both Tessa and I see that we
have that in common and helping each other explore what it means to
have these gifts. Granted she is like me in the beginning in denial
or feel scared towards it. I feel like I've accepted my gifts even
more which in return helps me ground my daughter.

Your expertise in astrology couldn't have come at a better time for
us! I really enjoyed meeting you and feeling comfortable as well as
having a sense of trusting you. "That is not an easy one for me"
I look forward to getting to know you more! I am happy to refer
others to you as it couldn't of been more real for me. As for your
website I appreciate how easy you provide information to understand
how to read your chart and the connection with others to converse
with one another.

Thanks again and Much Love to you,

Mellany S., Richmond, CA
"I'm very excited about what's been opened up for me through the connection we've made and would definitely encourage others to have a reading with you! It's so good to have you validate what I've been feeling and to also have the signposts just ahead to help me stay conscious of opportunities as they appear. Your sincerely and clarity both are what make you so good at what you do. I hope others who have questions and decisions to make will choose your astrological services to guide them. For me it was like having a light turned on! Blessings and much success NJ!" ~ Heysa T, Victoria, TX
Sistar Nora's readings are fantastic. She knew next to nothing about me and hit every aspect of what I am going thru exactly! The advice she gave me was too on target as well! I have had readings done for me for years by people that know me well, this was the first time be someone I do not know. She is remarkable! I felt completely informed when it was done! Funke O., Washington
Nora Jean's astrology is consistently spot-on! Whenever I need answers or advice with what the heck is going on in my life, I ask her. Recently I've been having health and financial issues and she really laid out for me what transits are happening and how best to deal with them in relation to what is happening in my life with my health, my finances, and how its all connected. Timing is everything as they say. Whenever I have something big coming up that will need to get done, I consult her about the when and how. She puts everything in perspective in a clear, practical, no nonsense way. i have found her advice invaluable and continue to be a repeat client.

Suzi E., Santa Cruz, CA
I find Nora to be an amazing astrologist and a wonderful person. I love to see what she has to say in her everyday general astrology. But the in depth readings that she personally did for my family and I were insightful and completely satisfying.

I have known many astrologists and I can honestly say Nora is the one that fulfilled all of my needs. She is excellent at following up, if you have questions or concerns she will spend the time to talk to you, I always walk away from our conversations with confidence and hope.
D. Gate, SK, Canada
" If you wish to have your Astrological chart made/read then you need to go visit
Nora Jeanís Astrological Services
and git erí done! She has well over forty years experience, sheís honest, trustworthy and just a really fine person. I could tell you more but itís just easier to go to her site and see what you think for yourself. Sheís an amazing writer too!
She did my charts for me Ö didnít change my life but made me understand it better. When you understand something it is far easier to deal with Ė even if you donít like it." Michele H., Florida, USA.
http://lunytuner.wordpress.com/2010/09/06/nora-jean-one-woman-show/
Thank you Nora,
for reading my chart and helping me understand astrology, I am now understanding a lot more about it and have gained from it.
Your words and writing is very easy to understand just wants me to keep reading and learn more.
Thank you again Nora for your wise words and reading amazing lady

Love and light Sherie xox
Perth, Australia
Nora Jean, the reading you just did for me was right on. And answered so many of the questions I have! So much of what has been going on around here makes so much more sense now!



I could see chaos for the world, but never dawned on me that it would be affecting me! duh! lol



And your advice about meditation to quite the mind, right on and just when I am needing it and thinking about learning more about meditation. How cool is that?!?



Now I know which direction to go in. I can't thank you enough. Is it ok if I think of you as my personal astrologer?



xoxo


Caroyn P., Washington, USA