This is from a quick Yahoo Search. I checked out all the links and
those that didn't come up I deleted here. I checked some of these out
in a quick sort of drive by manner, but there's great stuff in all of
these sites.

xoxo

NJ
Lotus Flowers: Drink wine with lotus flowers soaked in it, or eat the flowers and rearrange your consciousness like the Ancient Egyptians.
Egyptian Mythology: A useful overview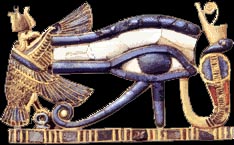 The Ancient Egyptian Site: good historical and religious overview.
Get your Hieroglyphs Right Here.
http://www.ccer.nl/

Under Resources...there's pages of Hieroglyphs, for example...
http://www.ccer.theo.uu.nl/ccer/apps/hiero/a.htm
over 800 for a Man and his activities
Ancient Egyptian Pottery - includes information, pictures, and history
of Egyptian pottery and ceramic arts.
http://www.2020site.org/egypt/

Egyptian Artifacts Exhibit
http://www.memphis.edu/egypt/artifact.html see the model granary
http://www.memphis.edu/egypt/4.htm

Louvre - Department of Egyptian Antiquities
http://www.paris.org/Musees/Louvre/Treasures/Egyptian/

Pharaohs of the Sun: Akhenaten, Nefertiti, Tutankhamen - online
version of the exhibit at the Museum of Fine Arts, Boston.
http://www.mfa.org/egypt/amarna/

Spendors of Egypt - selection of artifacts from the 2,800-year rule of
the pharaohs.
http://www2.sptimes.com/Egypt/
See the Set of four canopic jars
http://www2.sptimes.com/Egypt/Artifacts/Artifacts.5.html

This is the most interesting site and one where I'm going to get lost
in for a while.
The Quest for Immortality: Treasures of Ancient Egypt [read review] -
exhibition focuses on the understanding of the afterlife among
Egyptians in the period of the New Kingdom (1550-1069 BC) through the
Late Period (664-332 BC).
http://www.nga.gov/exhibitions/2002/egypt/index.htm Check out the
collar of the princess on the images page
http://www.nga.gov/exhibitions/2002/egypt/imagelist.htm
There's a map of Ancient Egypt here.

This site take a minute to mine, but check out their highlights, you
can pick a picture and then preview it. There's a beautiful Faiyum
portrait, but I can't give you a link because it opens up a small
window for viewing. It's worth checking this site.
Victoria Museum of Egyptian Antiquities at Museum Gustavianum
http://www.gustavianum.uu.se/vm/victoria.html
++++++++

Here's another great link, one of my favorite Egyptian sites:

http://homepage.powerup.com.au/~ancient/

Click on Egyptian Antiquities (found at the bottom, big red box with a lot
of links). Or go directly to:

http://homepage.powerup.com.au/~ancient/antiq.htm

Some wonderful things there...

jude
I went to go check that site out and found this example of Tomb Miniatures
http://homepage.powerup.com.au/~ancient/life1.htm

I want to make some of these, scenes from life in mini.
Then Jude sent more links through, thank you Aunt Jude!
This is a good one...some links are broken, but most work:
http://www.inetsonic.com/kate/tut/Layers/m_site.html

Ancient Egyptian Furniture and Woodworking
http://www.geocities.com/gpkillen/
http://www.geocities.com/gpkillen/museums.htm

Ancient Egyptian Pottery
http://www.2020site.org/egypt/

Pharaohs of the Sun
http://www.mfa.org/egypt/amarna/ex_hi_ind.html

Splendors of Ancient Egypt
http://www2.sptimes.com/Egypt/Artifacts/Default.html

The Quest for Immortality
http://www.nga.gov/exhibitions/2002/egypt/imagelist.htm

The Victoria Museum of Egyptian Antiquities
http://www.gustavianum.uu.se/vm/victoria.html
+++++
was interested in what faience was made of ..and found this site with lots of pictures of beads/amulets and such

nancy
techi_mom

http://www.ancienttouch.com/faience.htm