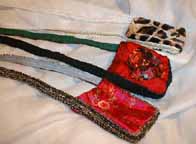 Fiber and String: Neck Pouch Index
I've been making small pouches that hang from the neck.
I held my small cell phone, ID and credit card, some folding cash in the neck pouch I used while traveling.
When I came home I am using favorite scraps of fabric and trim to make more neck pouches.
This web section will chronicle my journey in hand sewing these pouches going from rough beginnings to things that hopefully will be more refined.