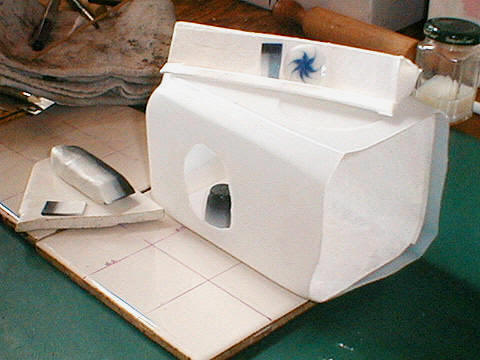 06/11/06: The tile below is 6 inches by 6 inches or 18cm by 18cm for size reference.
This is the "home made" light box. A half gallon plastic milk jug and some white paper.
I cut off the spout and handle of the milk jug and cut out a hole for my camera lens to peek through.
I lined the bottom and the back of the inside of the milk jug with white paper. It's actually rice paper meant for calligraphy, but it was what was on hand that came in a roll.
I put a plug of blend by the hole so you can see that a space was cut out there for the camera lens. That black and white blend is what the dry powder was spread on for one of the experiments. The blue swirl on top of the light box is TLS mixed with the powder and then dragged through more raw TLS and then cured. For more on how the swirl is done see the Steps.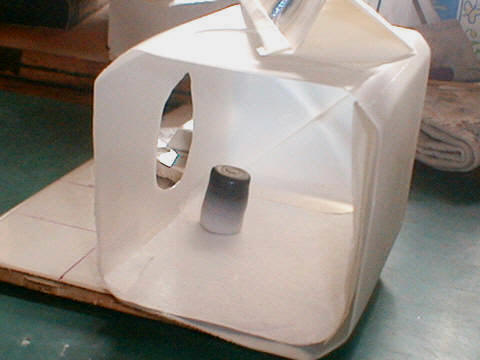 This is the inside view of the light box. The folded bit of paper that is on the top is used to prop up the cured bit of blended ribbon and the circle of TLS with the powder swirl.
I folded the paper so I could stand the cured clay for one shot and then angle it 10 degrees for another shot to see different reflections.
The third shot I'm putting on the individual pages is the cured bits laid on top of the light box to capture a shot in harsh light looking down from above. Here is an example of the three shots each of the 101 powder samples will have on their individual pages.
Gemtone Mauve Quartz (2-5) Click on this link 004 or the thumbnails to see the enlarged photos.