ClayMates:

May 31st 2009 is our 10th year hosting this group, which started out as MSATClayArt and changed to CITY-o-Clay.

It doesn't feel like 10 years, but my website is 8 years old and for two years I used GeoCities/PhotoPoint. So I guess it is 10 years.

I'll have to admit that hosting this group with the dozens of volunteers from the past and the current COCModSquad has been a life changing experience for me. I was interested in art when I was in Jr and High School and got married quite young. It wasn't until my sons were grown that I came back to doing any artwork. No one would have guessed I'd be interested in miniatures, even myself.

When I stared out goofing around with polymer clay, getting introduced to miniatures, my sons would say "I didn't know you could do that." Neither did I until I did some things.

I'm glad I promised y'all here that I would show my polymer clay journey no matter what came of my efforts, as a form of moral support for the 50 miniaturists who were the first group members. That's why you'll see miscalculations as well as experiments that came out as hoped.

What we, the volunteers and I, wanted for this group was to have a safe, commercial free, nurturing group that welcomed newbies as well as offer some interesting things for members who are old hands with minis and polymer clay.

Behind the scenes we wanted to have a democratic volunteer team, where issues were discussed, everyone's voice was heard, topics voted on and a set standard for fairness to extend to all the CITY-Lists Yahoo Groups. The concept of shared ownership is the best idea we came up with. That way if a group owner gets caught up in real life there'll always be someone else who is an owner, who could tend the group.

Many hands make lighter work has been the motto for the CITY-Leaders.

I want to thank the COCModSquad for being the best bunch of women I've had the pleasure to work with. Without them most of what goes on behind the scenes with donations, newbie boxes, lending library, setting up polls, et al, would not have been initiated or continued.
http://www.city-lists.com/city-o-clay/COCModSquad.htm

I want to thank all the ClayMates who participate and who make this group lively, sharing photos of your clay works, sharing moments of your life, and for keeping the traditions of being inclusive, nurturing, and encouraging each other. Your participation is the life blood of this group.

So here is to our first decade in operation. Let's hope the next 10 years will be just as growthful, loving, nurturing and fun.

xoxo

NJ
Post Script: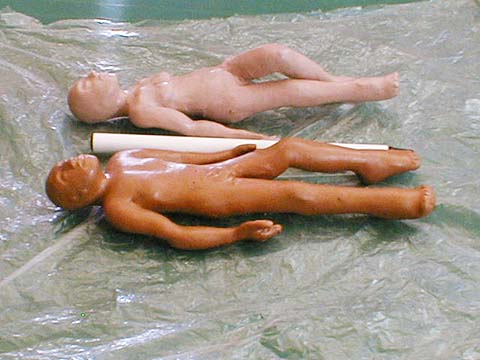 10 years later I'm still learning and discovering the possibilities of polymer clay. Theses penpal bodies are what's on my work table at this time.
I'm still sharing my clay journey as a form of continued moral support for our new clayers.
Real life may interrupt the creative process but like all interruptions, they are temporary.