April is Pen Foolery Month
I'm going to be exploring different things to do with the pen, since I have a couple of dozen here to goof around with. A pen can be an empty canvas for the miniaturist. How many fairies can you sculpt in 1/76th scale and put on a pen? How many mini flowers and leaves? How many faux gems? As miniaturists who kick clay around we can take the covered pen to a whole new level of expression. I want to do some finger bone pens, all Dias de lose Muertos like, and then there's the Faux Feathered Quill pen where we can add more than clay to the equation. Then there are pens that are sculpted people and the nib of the pen is a point they are toe pointing to, add hair and you're getting the drift. So dig out your pens or buy a handful, they're cheap, we don't use much clay so it's frugal. What we are going to do is do some pens that will knock the socks off of other clayers who aren't thinking they are miniaturists, when they could be. Pens that look like a pair of chop sticks with sushi at the top. Pens that look like baseball bats with a clay catcher's mitt at the top. See what I mean? There's all sorts of room for mini stuff on a pen. Oh yes, stamped and backfilled writing on pens: Take a pen covered with cured black clay and with your wood carving tools etch out a message... You're the TOPS... I LOVE you, or I "heart" you, and then go back and back fill with a light color, fill in the heart with red, add a golden arrow through it, we're going to goof around with this message on a pen idea for April. When we give a gift we can personalize it, put a little neice or nephew's name on it, date it, so it will be something to be kept and remembered. We can also give refills to the ink with the gift and show them how to refill it so it won't be consigned to the kitchen drawer and ultimately tossed out. Also we're going to experiment with Pen Holders, a mound of some sort to park the pen when not in use on the desk. This also can get really fancy ... a multiple pen parking lot with holes for a number of pens that are of a theme. Lots of room to move here I'm thinking. April is Pen Foolery Month. We just got a head start on it last week.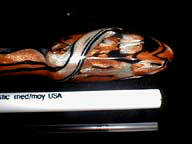 Taking the Tiger by its tail and chopping it up
Jael (she cares for bunnies) took these screen shots of The Tiger Cane Natasha Pen effort of 03-31-03 and put them in the Epson Album herself. Great Team Effort and thank you Jael.
Taking the Tiger by its tail and chopping it up. Tiger Cane chopped and given the Natasha cut, pressed into service to go on the end of a pen.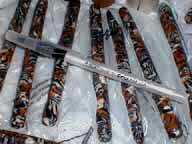 Pens: Animal Chop - 03-31-03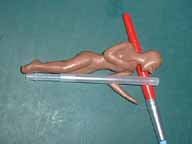 Sleeping Lady Pen-001: She's just getting started. Born in Demo 4-02-03.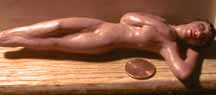 Sleeping Lady Pen - 002: After a day of fussing with her, 04-04-03