Rice N Pizza: Still experimenting with Translucent Liquid Sculpey and making sauces and gravy. Also revisiting the Cook's Mix Pizza toppings, more on that with closer pictures. This is not so much as a tutorial on how to make things in miniature, but a ramble with pictures.
Group 1: 1, 2, 3, 4, 5, 6,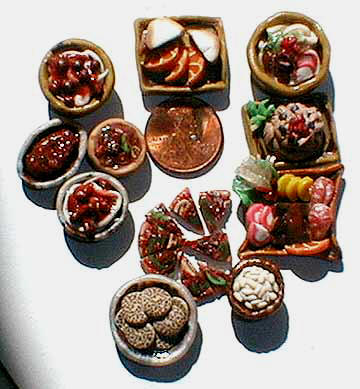 I'm not sure what each caption will be on any given picture but I'm going to just natter about clay, color mixing, cane building, perspective, the tyranny of the smooth and perfect, recycling old canes and making things that please us first. Let everyone else stand in line behind our desires when it comes to making something with clay in miniature. It's a really personal thing and only you, the artist, will know best.