Rice N Pizza: Oh now I'm excited. Spaghetti, meat loaf and beef stew. Do you know what a pill it is to get these sorts of mini foods to look juicy without using TLS. Translucent Liquid Sculpey mixed with colored clay is what is the Spaghetti sauce, the glaze over the meat loaf and the juicy look of the beef stew.
Group 1: 1, 2, 3, 4, 5, 6, Group 2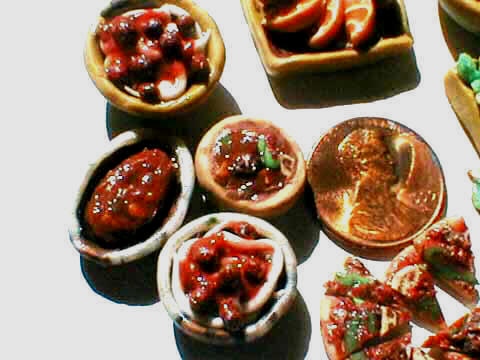 The beef stew is a mix of pizza toppings mixed with brown clay tinting no color translucent. All balled up and stuck in a bowl, glazed over with TLS. Those pizza toppings get used in ChowMein too. Just handy stuff to keep in the mini kitchen, don't ya think?