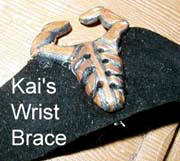 Current Rants and Recent Rambles
01-26-09 post to COC: A bit more about SteamPunk and then some...
There's been an uptick about the style "steampunk" in the polymer clay community and for a lot of clayers this is a new term. This is a reprint of a post to COC from 01-26-09, sharing that the steampunk style actually goes back over one hundred years in literary tradition.
Since I don't have any steampunk stuff I offer a picture of Cowboy Kai's Wrist Brace, close enough.