Epson Albums - Flowers - That went on the flower jar.

See more on TOF (Tongues of Fire) Flowers.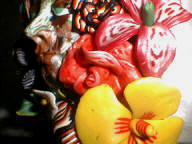 December 29, 2002: Flower Jar Showing the fan fold technique.
Demo logs:
01- December 29, 2002: Food Processor and Sheets, Cane Basics, , Tongues of Fire Stack, Elongated Striped Flower Petals.
02- December 29, 2002: Flowers and Fan Fold Cane
03- December 29, 2002: Flowers and Fan Fold Cane