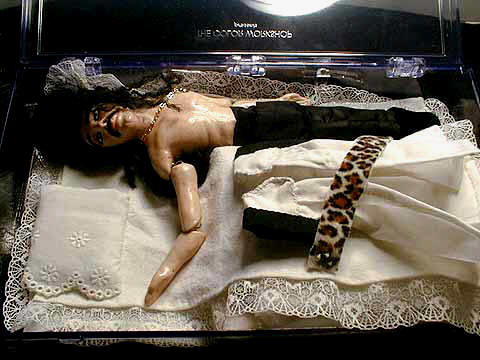 Kai in the box, 2001. The first bit of creative sewing I did in over 10 years. Now 10 years after this miniature bit of sewing I'm ready to go full size. One of the topics of this ramble. Pictures are always nice at the top though.
This is how I wind up the end of a year, making a page for the Monthly Highlights for the year that is ending. The Year of 2010 What's telling is there are no pages for April or June. Astrology buffs will notice that it's the months for Cardinal signs, T-Square anyone? Since I opt out of the holiday rituals I can take this time to do the archiving that happens at the end of each month and the end of the year.
2009 marked the 10th year I've been chronicling my polymer clay journey. Some of the chronicles have turned into tutorials. Some have turned into "warnings", as in "do not do this at home, kiddos!" Those who have been visiting for a while know that there is no rhyme or reason to how this site is set up. I put things in a sort of order but it's often in hind sight. That's why the Monthly Highlights are a good back up to the two tutorial indexes.
One thing on the To-Do list for 2011 is to merge the two tutorial lists in some way without making everyone pull their hair.
After having the astrology b2evolution multi tab blog interface go belly up I'm rethinking the whole blog thing. I had two other blogs connected to this site and I merged them, but I'm wondering if I even like the blog format. I don't feel comfortable having the content in some database that is not part of my website, but God only knows where it is really located. Yeah, I got back ups, for what they are worth. I have backups of other blogs that got hosed and I've still got to figure out how to resurrect them and merge them with the WordPress blog I do have, but I'm rambling.
I'm still using FrontPage 2003. It is no longer being upgraded and there is no service for it. In time web hosts are not going to even bother offering FrontPage "extensions". The time will come when I will have to redo this entire site in some other web building software. When that time comes I will depend on the kindness of my friends, family and fans to get money together to buy new software. Then I'll have to take off a month or so to redo my website and make sure I'm not breaking all the links I have coming in from other locations, thereby screwing my Google ranking.
When all I want to do is sew.
Ever get the urge to do something that's so compelling it is like the siren call for Ulysses? Tie me to the mast. I'm fixing to jump overboard right quick. I want to sew, again.
Most of you who know me from the polymer clay world are already in shock that I've been doing nothing but crocheting hats since July 2010. I think I may have hit the 100 mark with the crochet hats.
Next is cloth hats with wide brims and sporty little cycling caps. I have the fabric, interfacing, books on millenary. That will get me started working with fabric again.
I was sewing so much in 1984 I burnt out a sewing machine making the pennants and the banners for the San Francisco Bay To Breakers marathon race, as a subcontractor. Had to take the people who contracted me to small claims court to get paid. But I had been sewing for years before then. I would make the clothing for my children before they were born.
I remember getting a good price on a bolt of plaid flannel of yellow, blue and white, a right horrible plaid, but the price was right. My first born had plaid everything, coats, shoes, blankets, T-shirts, you name it and it was of that ugly plaid flannel. It was soft and it was cheap and new borns only pee, poo, and throw up on what they wear so they have no input into the pattern of the fabric.
I birthed my first in 1966, so I have been sewing for a while.
Back in the late 80's and early 90's I had a sewing partner and we'd sew for the Renaissance Fair. Well he'd do most of the sewing but I'd offer back up for hand stitching. We did a fashion show together, a total comedy of errors but it was an experience. Like getting the Hong Kong Flu was an experience. Something you survive but wouldn't like to repeat. He died of AIDs. I stopped sewing creatively.
I would sew for the family's needs, but my heart was no longer in it because it made me sad. I was sad for a couple of decades. One decade I threw myself into the corporate arena taking advantage of the Dot.com boom. One decade I threw myself into exploring polymer clay and this website is the result of that exploration.
Now I want to sew again. The decision I need to make is do I just carve out a section on my website: The sewing shack and share with y'all my re-entry into the world of sewing. Like I've been doing with Fiber and String? I've only had the time and energy to show the end results of the crochet hat experience.
Back in the late 60's and early 70's I started writing a sewing book that attacked the topic from a cultural anthropology point of view. How did humans cover themselves? Why ethnic clothing is made of geometric shapes like squares and rectangles? When did belts and pockets get invented? As I explored the historical journey of human covering I explored the sewing advances that had to go along with it. I still have some pages of that book in a box somewhere. Would anyone be interested in an attack like that or should I just jump into SteamPunk SciFi CosPlay and folks can keep up or not, depending on their skill set?
I'm tempted to jump in with both feet and those visitors who are interested and can keep up can do so. Those who want to talk about what I'm making can join me in FiberArtCITY. It is not a CITY-Lists Yahoo Group that I run but I'm a member there and we talk needlework and it isn't your grandma's needlework either. We're talking StarTrek, Ren and Dickens Fair, SteamPunk and that's the direction it usually takes. I guess that's the direction I'll be taking going into 2011. That and doing a lot more of my astrology. Check out the newly built astrology section.