Fabric: Before I began chronicling my polymer clay journey I used to be a tailor. I also love costumes and SciFi movies. I will be offering One Of A Kind (OOAK) fashion creations here as well. I don't have any examples to show at this time because I'm returning to sewing after putting it aside when I discovered polymer clay.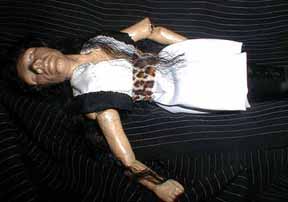 Cloth clothing for the polymer clay articulated figures is another direction I'd like to explore. Baron Von Kai, my traveling companion has hand sewn clothing I made for him, along the cassock tradition. CoyBoy Kai got both Cowboy and Indian outfits, with boots and moccasins.
A neighbor gave me a Barbi Doll and I do want to make some more contemporary, daring, goth inspired, outfits in "Play Scale" the size that Barbi needs.