March 2007, New To Me Clay Tricks: 03-20-07 - The Birthday Inro
For those who are new, "Inro" means "These kimonos don't got no danged pockets." Items one wanted to carry would be put in the different sections of an inro and it would be looped through the sash. This an evolution of a technique I wrestle with, so it gets stashed in the new to me section. 05-28-09: Review of Inro Experiments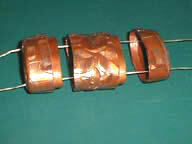 I was using up the scraps from experiments and this Inro was created. The links to earlier phases of this experiment are at the bottom of this page. 02-24-07 Faux Wood Tins, 02-28-MicaTins
This latest effort is a continuation of experiments with this interlocking multi level vessel. A "netsuke" or small sculpture would be put on the end of the cord to keep the inro from falling out of the sash. Click here to see more inro pictures.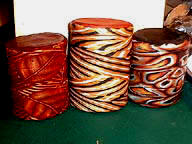 For more information on the construction of Inro check the Japan Index. These are the earliest and therefore the most wonky. Love how the gold and crimson sheet cracked because it was too old. Some cracks are ok, ya know?
The Gold and Brown inro on the right is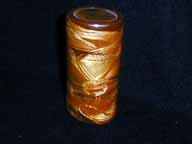 an experiment with putting a design in the inside as well as the outside.