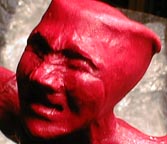 Oh It Just Makes Me So MAD!
We can no longer use our saved Favorite

Room. We can no longer create a room that's accessible to our MAC Users through our City-o-Clay Java Chat. We were behind the 8-ball.
So the only option we have is for you to Download Yahoo Messenger. Add me "norajean_SF" to your Friend's list and when you see me online IM me and I'll invite you to a CITY-o-Clay Conference room for a demo. Then we can all be together and happy again.

Check out Demo Stuff to see what's been done.
01-29-05 Mini Food Review AVI files.
06-18-08: These avi files are being redone to be put up on YouTube.
A dozen AVI files caught by Ulrike in Germany. Reviewing mini food, some samples of canes and a few How-To examples.
Call for HELP
Yahoo Messenger has made webcam demos impossible. They have removed our "Favorite Rooms" and the ability to create a User Room. If you've checked out the screen shots, read demo logs, seen the avi files, seen the tutorials that came from our webcam demos then we need you to write to Yahoo to ask that our chat room be returned to us for webcam demos. New content on this site was created with DEMO STUFF.
Please fill out the request for a Chat Room for us at this link

http://add.yahoo.com/fast/help/chat/cgi_feedback

It is important that they know that it needs to be a room that can also be accessed through our list's java chat.

The room we had that was working was named

"*g.CITY-o-Clay"


If enough of us write then we may have the demo problem solved.

Thanks in advance for helping,

xoxo

NJ
July 7, 2005
Claymates:

I had my first MRI yesterday, very high tech weirdness
that. I may have a bone degeneration of my C7
vertebrae, I will know more in a few weeks. I am
feeling better but I got to still take it easy until
the final results are known.

I've not been online for a week, but when I get a
question from someone who is not from our clay list
who is needing tips and hints I can't help but
respond.

Linda... I do teach but it's online. I do free, live,
webcam demos and run a clay list with a dozen other
wonderful ladies. I'm sharing your question with the
ClayMates of CITY-o-Clay
http://groups.yahoo.com/group/CITY-o-Clay

This will also give help to the 40 new list members
who have come on board while I've been out on medical
leave. Howdy and Welcome new ClayMates!

Let's start with your questions....


--- Linda McL*** wrote:

> Hi. My name is Linda Mc*** and I stumbled onto
> your beautiful polymer
> flowers and leaves. I am having a little trouble
> figuring out how to
> navigate and get to the beginning of a project. I
> am new to polymer and
> so I need to back up to "caning", for example, to
> see how you made that
> before you make something with it. For example, at
> Biz-Archive/Sheets/Pendants/pp-005.htm,
> there are beautiful
> blue pearl leaves. How in the world did you do
> that? They are
> beautiful. And at
>
> Biz-Archive/Sheets/Pendants/pp-002.htm,
> I am assuming this
> is the same technique but just different colors.
> They are gorgeous.
> Can you point me to the beginning of these projects.
> Sure wish I could
> take classes from you!
>
>
>
> Thanks,
>
>
>
> Linda
>
>
>


Biz-Archive/Sheets/Pendants/pp-005.htm
There are links on this page to the
Chevron Leaves and Abalone Experiment. Follow those
links back to see how the leaves are made and how the
abalone mix experiments started.

Biz-Archive/Sheets/Pendants/pp-002.htm
Is a variation on the Chevron Flip Leaf technique.

Which makes me remember Razma, one of our Moderators,
she had the dickens with the "Dreaded Chevron Flip"
and we did it a lot in many demos. Didn't we Razma? Oh
honey I got your phone message, big hugs and kisses,
thanks. But as long as Razma had the DCF difficulties
we reviewed it in Demo. There's examples of it
everywhere.

For more current leaf and abalone experiments check
out what's on the com site...

http://www.norajean.com/Tute-List.htm
That's the more current efforts, the biz site is the
first three years of teaching online, the com site is
the last three years of teaching and most of that
online with free webcam demos.

On the com site tute list check out the FAUX INDEX

http://www.norajean.com/Faux/Index.htm
holds faux stuff, like abalone and wood or sea shells.
Here is the more current abalone experiments.
http://www.norajean.com/Faux/Abalone/Index.htm

Or go back to the com Tute List and check out
2004-Flower and Leaf Index

http://www.norajean.com/New_Projects/2004-FlowersLeaves/Index.htm

or if that link breaks... hit the tiny url to get to
the flower and leaves page.

http://tinyurl.com/37fbe

These two sites are are back up to the CITY-o-Clay and
the webcam Demos. List members volunteer to take
screen shots and put them up into photo albums, other
volunteers save demo logs of the text that goes on
during a demo, I'm claying and answering questions and
take digital pictures after the fact.

Without being part of the clay list and attending
demos the sites really don't make sense; they are not
meant to be stand alone, but to augment the clay list
and the demos.

Let's look at another way to search for leaves, for
there are more than one way to peel a shrimp.

The Monthly Highlights is a belt and suspender
approach to the tutorial lists. It sorts what's on the
com site by date.

http://www.norajean.com/Highlights/Index.htm

It's done by year so since there were a lot of demos
in 2004, let's check that year, ok?

http://www.norajean.com/Highlights/2004.htm

It starts at the end of the year and as you scroll
down you go through the year backwards, let's look for
some leaves since it is the Chevron Flip that you have
questions about.

We did a lot of flowers and leaves in demo in 2004,
but I'm looking for the demo we have screen shots and
a demo log.

http://www.norajean.com/DemoStuff/06-13-04-GreenBlend-Log.htm
or
http://tinyurl.com/aofl6
This is when we had both French and German ClayMates
come to demo.

Now see the link to screen shots on the upper right?
46 photos on how to do the blends on leaves so we can
get highlights and shadows, as well as doing the
chevron flip. Ulrike in Germany is sheltering these
screen shots as well as many others from demos.

Check the 46 photos in the album, it shows the chevron
flip. Any collection of horizontal lines when cut in
the diagonal, then one side flipped around, will give
you chevrons or arrow heads. This is the trick of
making leaves.

With 6 years of teaching online and doing demos for a
couple of years there's a lot of stuff to look at on
two sites. Trouble with reorganizing is these pages
get linked to other people's sites, I move a page
their page has a broken link.

The best I can do is have a tutorial list for both
sites, sort the clay efforts by some sort of broad
stroke method and have a chronological back up of the
same efforts on the Monthly Highlights.

I hope this helps you some and also for the new list
members.

Now I've used up my typing ration for the week.

ClayMates: I love you and miss you all, but as Linda
is finding out there's tons of stuff for you to check
out on both sites while I'm on medical leave.

xoxo

NoraJean