11-26: Hair Implants
Hair implants on Shady Sadie, one half head done. Full Size Mask.
Hair Roll Up
I rolled up a ribbon of clay, laid hair on it, made a hairy jelly roll and fashioned the clay end like a bowl and put it on a presculpted mini head. In this case it was Stan the Heavy Metal Man.

Thank you Kathy of E. TN for taking all these screen shots.
11-07-02: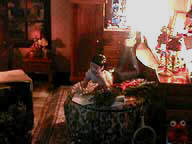 11-14-02: Captions Done
11-07-02 - WebCam Demo: Mini Scenes.
Jen Doll is getting ready for the holidays. She'd rather be making minis than signing Season's Greeting cards, but a doll gotta do what a doll gotta do. Check out her minis: Mr. Mousie, The Matron Cat Woman, The Micro Minis from South Africa, the Dancing Doll in the box, the Micro Mini Potter's Hutch and a big work in progress making plastic mini stuff look nicer.